About Rhoda Taylor
English born now living and working in West Cork near the most southern point of Ireland (Mizen Head), Rhoda Taylor is known for her distinctive art works and illustrations.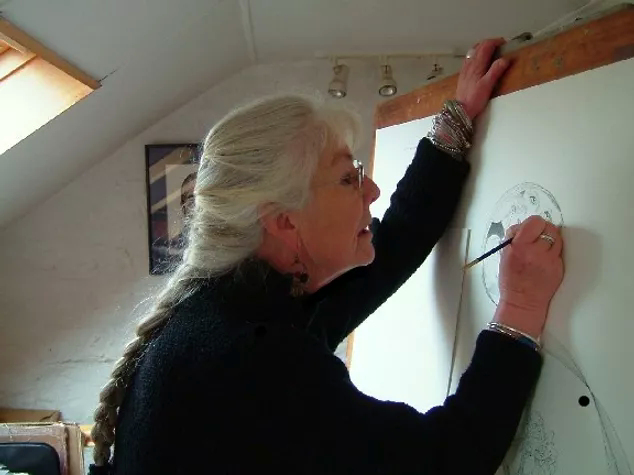 A Potpourri of Genres
Her eclecticism makes it difficult to type-cast Rhoda with any particular style. From Pen and Ink with a Far East flavour to Art Deco and fine water colours, you will often discover a cheeky thread of humour woven through her works. She has even published a Colouring Book
Story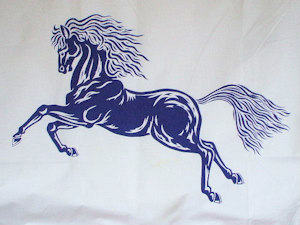 During the sixties, seventies and eighties when Rhoda worked in England she owned 'Timsbury Vale Studios' that included a silk screening business. The Financial Times featured a glowing review about this 'Wild Stallion' design.
Wild Stallion - silk screened on a pillowcase that was washable
This presented an opportunity to print designs for the Royal Navy and Army. When Rhoda moved to Ireland in 1997 she sold the silk screening business and concentrated solely on original artwork.
The Studio

Nestled in Goleen, West Cork, a wild and remote location a short distance from Mizen Head, Rhoda welcomes visitors to her studio and home to view her work.
Commissions
Rhoda is always happy to consider commissions such as:
Portraits (People, Pets, Property) | Landscapes | Seascapes | Fantasy
Fine Art Prints
Many of Rhoda's art works are available as fine art prints, framed and ready to hang.
Education
Studied commercial art at the West of England Collage of Art in the late fifties/early sixties.
Events
Published in calendar for FRIEDRICH W.HEYE VERLAG GMBH Germany
Many cards designs for 'NORTHERN GODS' PLANET PRINTS
Exhibitions
'ENGLISH WORKHOUSE' gallery in Dallas America
CROW GALLERY Gloucester England
TREG' AQURELLE International watercolour exhibition France
KENNYS ART GALLERIES Ireland
CRAWFORD GALLERY London
LAVIT GALLERY Ireland
SCHULL GALLERY Ireland
MILLCOVE GALLERIES Ireland